Ventilation & Insulation
Ventilation
We can supply a ventilation solution that best suits your particular roof
A high-quality ventilation system is vital for any property. Complemented by breathable membranes, a high performing ventilation system enhances the quality of airflow within a building and allows moisture to escape, preventing condensation build-up in a property, without compromising a roof's waterproofing qualities.
It is important to obtain the correct airflow within both cold and warm roof constructions. The professional team at DMR Roofing Centre Ltd can advise you on your options and requirements to comply with Building Regulations and ensure you do not experience problems with condensation within your roof detail later. From Ventilation Ridge Systems to Over Fascia Vents and Vented Soffit Boards, we can supply a solution that best suits your particular roof.
Over Fascia Vents
The fascia board is the long board situated under a roof's lower edge and supports the gutter and bottom edge of the lowest row of roof tiles. We provide a range of effective discreet roof vents that are located at the top of the fascia board, underneath roofing felt to improve the circulation of air within the roof space that lies between the roofing felt and fascia board and within the whole property that you are refurbishing.
Roll Out Rafter Trays
Maintaining the airflow to the roof space from the outside rather than the interior, the cost-effective Roll Out Rafter Trays we stock provide a much-needed air gap between the roof felt and Loft Insulation. This important air gap gives any moisture that has accumulated an opportunity to escape, preventing condensation and damp within the building.
Slate Vents
Like the Tile Vents that we stock, our Slate Vents are subtle yet robust and can seamlessly blend in with most rooflines and are suitable for natural, artificial and reclaimed slate roofs.
Tile Vents
The Tile Vents we supply have aesthetic as well as practical advantages. Not only do they provide a high-performing ventilation system for any property's roof space, but they reduce the amount of heat that escapes through the roof and can tastefully blend in with certain rooflines. This includes complementing the look of the guttering, facias boards and soffits.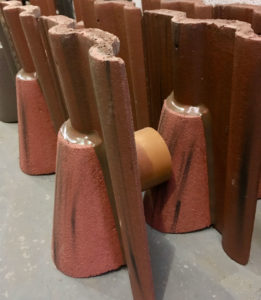 Ridge and Abutment Roof Vents
The ridge is the section of a pitched roof, often located in the centre, that runs across the roof where the two sloping sides meet. Meanwhile, abutments are incidences where the gradient of a roof comes into contact with a vertical area, for example, a chimney or a wall. These areas on pitched and flat roofs can, and should, be ventilated.
We proudly offer an extensive range of Ridge and Abutment Roof Vents from leading brands in a variety of lengths and sizes to suit your needs.
Insulation
Reducing heat loss and saving on heating bills with Insulation
Roof insulation is a necessary part of modern-day living, helping property owners reduce heat loss and save on heating bills. DMR Roofing Centre offer a wide variety of roof and loft insulation solutions for tradespeople working on commercial and domestic projects and homeowners experienced in DIY looking to upgrade the current insulation levels of their home.
Loft Insulation
Keeping a loft insulated ensures a property is energy-efficient and at a warmer, more comfortable temperature. We offer a variety of cost-effective, long-lasting loft insulation options from leading brands, suitable for insulating lofts of all shapes and dimensions and carry high-quality rolls at different lengths and widths to suit your unique project.
If you are a homeowner insulating your loft yourself, please note that it is recommended to seek professional advice before fitting insulation to your loft if you see any damp or condensation in your roof space.
Insulation will make your attic cooler as it prevents warmth from escaping living spaces, so could worsen existing damp or condensation problems. If you are adding new insulation to your loft, you may need to increase ventilation to help reduce moisture in your loft space.
You can view our Ventilation Products below.
Foil Insulation
For extra thermal protection for your project or home and to guarantee that your property or project complies with Building Regulations, DMR Roofing Centre stock a series of Foil Insulation solutions that make insulating a roof an easy and seamless process.
Foil roof insulation is often chosen for its flexibility, fitting effortlessly between roof timbers with the exterior metallised layer reflecting heat, whilst the inner layers enable an air and moisture tight insulation solution.
Sustainable Eco-Friendly Roof Insulation
If you prefer a greener alternative when it comes to Loft Insulation, we also supply multi-purpose British Sheep Wool Insulation, in either rolls or slabs, that delivers high-quality long-lasting results.
Other sustainable options available from DMR Roofing Centre are natural insulation rolls made from fine plant fibres.
Insulation Boards
Ideal for all pitched and flat roof projects, the high standard rigid thermal insulation boards that we supply come in a variety of thicknesses and sizes to suit all purposes and offer great value for money.
We accept all major credit cards.
Free quotations and advice.
Local visits & measurements.